81% of Poles motivate their children to save money
Every third child in Poland has independently raised money for a dream goal and uses a financial product, according to a study conducted by IQS Group for the financial education website Finansiaki (Santander Bank Polska).
In connection with World Saving Day, which falls on October 31st, the educational website Finansiaki analysed Poles' approach to educating children in the area of finance. More and more parents recognise the importance of saving money and want to pass this knowledge on. 81% of them declared that they motivate their children to put money aside for their own purposes. Other parents believe that their children are still too young to learn about saving and the value of money, which was the most common response from respondents whose children are under 7 years old.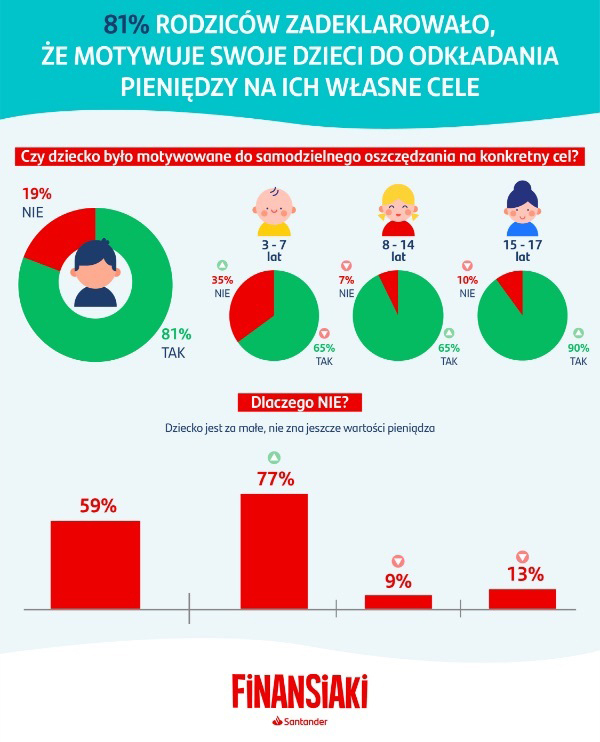 We are pleased that the vast majority of parents want their children to learn how to save money. As shown by the survey commissioned by us, as many as 34% of children put aside the entire amount needed to buy a dream item of their choice and the same number did it with a little support from their parents who covered the missing amount. Only 9% of the surveyed parents admit that their children immediately spend their pocket money
Teenagers over the age of 15 are the best at saving. Over 40% of them are able to save for their goals. Children aged 8 to 14 are also able to save some money, which is in line with their parents' willingness to teach them how to save. 93% of respondents who have children in this age group try to motivate them to put aside certain amounts on their own. Interestingly, as many as 25% of the youngest children (3-7 years old) are already able to save money to purchase something they want.
Financial products support education
More than half of children over 15 use some kind of financial product. 88% of them have their own bank accounts. It is worth noting that also a large proportion of younger children (37% of children in the 8-14 age group) already have their own financial products. As in the case of older teenagers, 88% of under-15s also have an account, and 53% of children from this age group also have their own payment cards.
Learning to use financial products is just as important as learning to save, and can even support this process. Children who have their own accounts, even treated as a piggy bank, can check how much they have saved at any time. It is also a great convenience for parents who can easily transfer money to their children without worrying that the children will lose it before they collect the desired amount
Many free-of-charge and engaging tools for teaching children how to save money can be found at www.finansiaki.pl. Parents can download interesting games or animations to watch together. The Finansiaki programme supports learning through play and provides parents with a set of ready-made educational materials to work through with their children.
The survey was conducted in August 2021 by the IQS group on behalf of Santander Bank Polska, which operates the generally accessible educational website Finansiaki. 966 parents of children aged 3 to 17 took part in the survey using the CAWI method.