We take care to ensure access to financial services for persons with disabilities
On the third of December we celebrate the International Day of Persons with Disabilities. Since 2010, Santander Bank Polska has been implementing a barrier-free service program, which facilitates access to services for clients with special needs. So far we have implemented barrier-free branches, remote video service in the Polish Sign Language and "talking" ATMs, which already account for nearly 90% of the entire network.
According to official data, there are about 4.7 million people with disabilities in Poland*. However, in reality, the figure may be as high as 7 million, and in the whole European Union there are nearly 80 million persons with disabilities**. On 3rd December, we celebrate the International Day of Persons with Disabilities, which was established by the UN General Assembly in 1992.
More and more companies and economic sectors are striving to make services and products more accessible to customers with disabilities. And so is Santander Bank Polska, which has been implementing its Barrier-free Service Program since 2010. Thanks to it, we systematically facilitate access to services for clients with disabilities, regardless of whether the service is offered in a branch or provided remotely. The examples of solutions implemented in the bank include branches adapted in terms of architecture and equipment, greater digital accessibility of remote channels, as well as remote video service in the Polish Sign Language and talking ATMs.
In order to make financial services accessible to all customers, we provide a network of so-called "talking" ATMs. They are designed to be operated by blind and partially sighted people. When you connect your own headphones to the machine, the user will hear a message in Polish, assisting, step by step, such processes as cash withdrawal, PIN change or card activation. Navigation is possible using the keys on the numeric keypad without having to reach the keys next to the screen. Last year we introduced the option of turning off the screen for the time of the transaction carried out through headphones. This increases the comfort and security of transactions executed by visually impaired persons.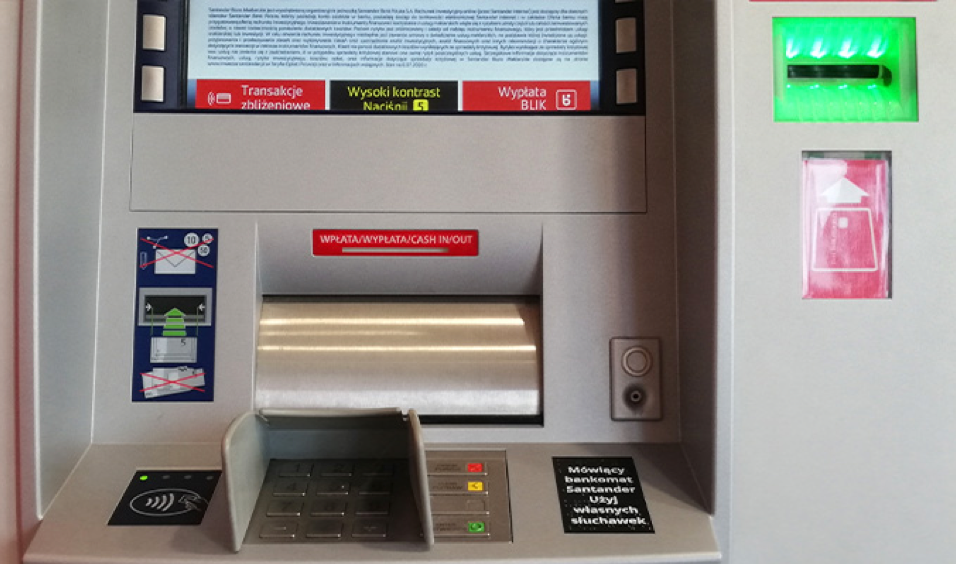 Additionally, it is also possible to switch the screen to high contrast mode, i.e. with black background without any graphic elements and with subtitles in yellow letters. Currently, customers can use over 1,450 sound machines, which account for nearly 90% of all ATMs in the bank. The devices that provide this service can be recognized by the headphone jack below the screen on the right side and a sticker with a sign informing about the availability of Braille alphabet and the use of high-contrast colours.
Remote video support in Polish Sign Language
Another solution we have been offering to deaf people since 2014 is remote communication with an Online Advisor in Polish Sign Language. This possibility can be used in every branch, as well as in online channels, via Internet and mobile banking. All you need to do is go to the "Contact" tab in the Santander Mobile application and "Help and Contact" on the bank's website and choose the right option. During the conversation, Santander Bank Polska advisors provide information about the products used by the client and advice how to use e-banking. It is also possible to cancel a card, learn about the product offer, check one's own credit rating or file an application.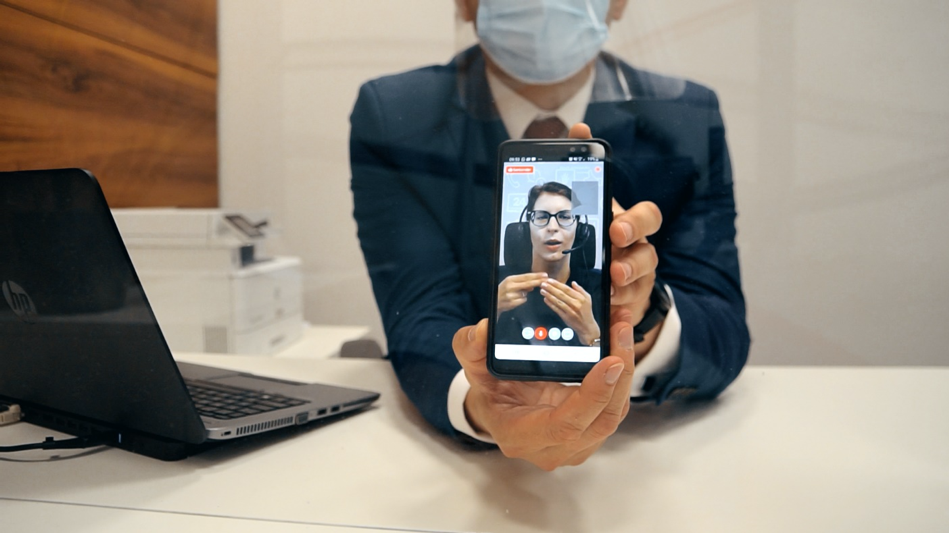 Differently Abled at work
Not only do we launch new functionalities that improve access to financial services, but we also carry out activities within the organization. We are committed to building an inclusive and diverse work environment by preparing the organization to employ persons with disabilities. We are doing this within the framework of the Differently Abled project aimed at raising the awareness of the rights and needs of persons with disabilities, breaking down potential barriers for employment and creating conditions for sharing information about the disability with the employer.
Thanks to the Barrier-Free Service Program developed and implemented in partnership with foundations working for the benefit of persons with disabilities and the Differently Abled project, Santander Bank Polska is effectively involved in counteracting social and economic exclusion. By facilitating access to financial services the bank helps to overcome exclusion of people with disabilities in this area.
For more information about the Barrier-free Service Program, please visit www.santander.pl/obb.
*http://niepelnosprawni.gov.pl/p,78,dane-demograficzne