Education and development of science is one of the priorities of the bank's social activity. The Santander Universidades (SU) project is a key area for us in this respect and is one of the pillars of the #Responsible Banking agenda.
By implementing the programme, we support good quality education, prepare students to enter the labour market and develop the idea of entrepreneurship. We believe that cooperation between business and academia will translate into the development of society and have a positive impact on the economy.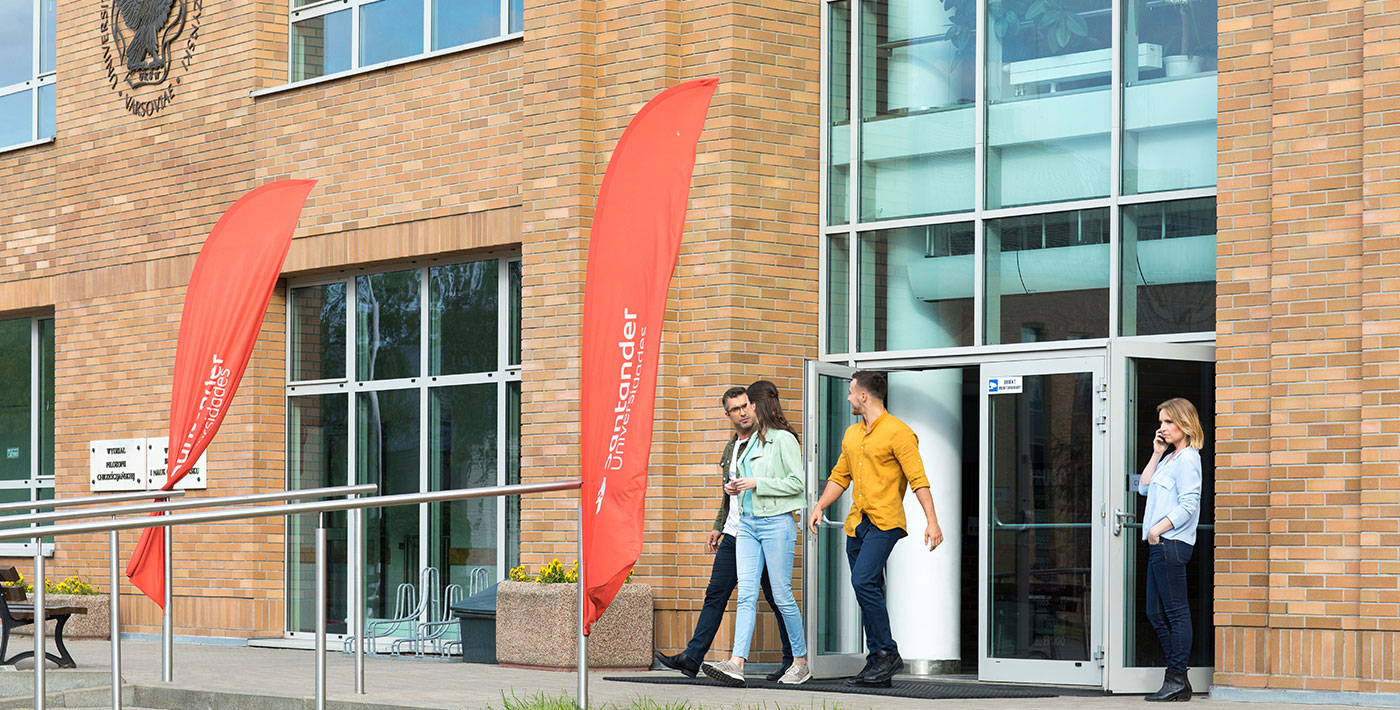 Santander Universidades offer for universities includes:
Financing scholarships, awards and grants for the best students, doctoral students and academic staff with an aim to support individual development.
Global grants for students, graduates and university staff – giving the opportunity to take intensive courses developing digital, language and soft skills in an international environment. Some of our programmes are:

Summer courses at prestigious universities such as Yale and Georgetown Universities. We believe that international experience significantly increases students' skills and competences.
Online courses focusing on the development of digital and soft skills designed to help young people acquire knowledge and skills and facilitate their entry into the new labour market.
Training programs to develop leadership skills – projects that prepare for the requirements and new responsibilities of future leaders in academic, social and business environments.
Grant programmes for people aspiring to be entrepreneurs or young entrepreneurs on SantanderX.com

Financial and non-financial support for conferences, trainings and workshops for the academic community.
Cooperation with student organisations.
Santander Universidades
Currently, Santander Universidades centres can be found at 12 universities in Poland. Each centre consists of a relaxation zone for students, a networking area and a customer service desk. The staff of the centres cooperate with the university authorities and student organizations to identify the greatest needs on an ongoing basis. Proposals are transformed into specific actions and projects that meet the expectations of the University and its students.
The cooperation between the Maria Curie-Skłodowska University (UMCS) and Santander Universidades supported by the centre based on the university grounds is a great example of synergy between the academia and business. Implementation of many interesting and innovative projects brings benefits to the academic community, while strengthening the recognition of the Santander brand and the image of the UMCS as an institutions cooperating with the business community.
For more information about Santander Universidades go here.
GRI:
[Custom indicator]

Number of beneficiaries of projects and social initiatives in the field of education initiated and/or supported by the bank and/or the bank's foundation in a given year

Number of beneficiaries of projects and social initiatives in the field of education initiated and/or supported by the bank and/or the bank's foundation in a given year

Go to indicator list
Santander Universidades in numbers
Santander Universidades worldwide
Santander Universidades in Poland
59

3,777

PLN 1.134 million
Global development opportunities
Students, graduates and faculty staff have the opportunity to actively participate in projects implemented on a global scale. An excellent example of such activities are the global Santander Scholarships, thanks to which eleven people from Poland went to the USA for intensive holiday courses, and five people took part in an innovative online project.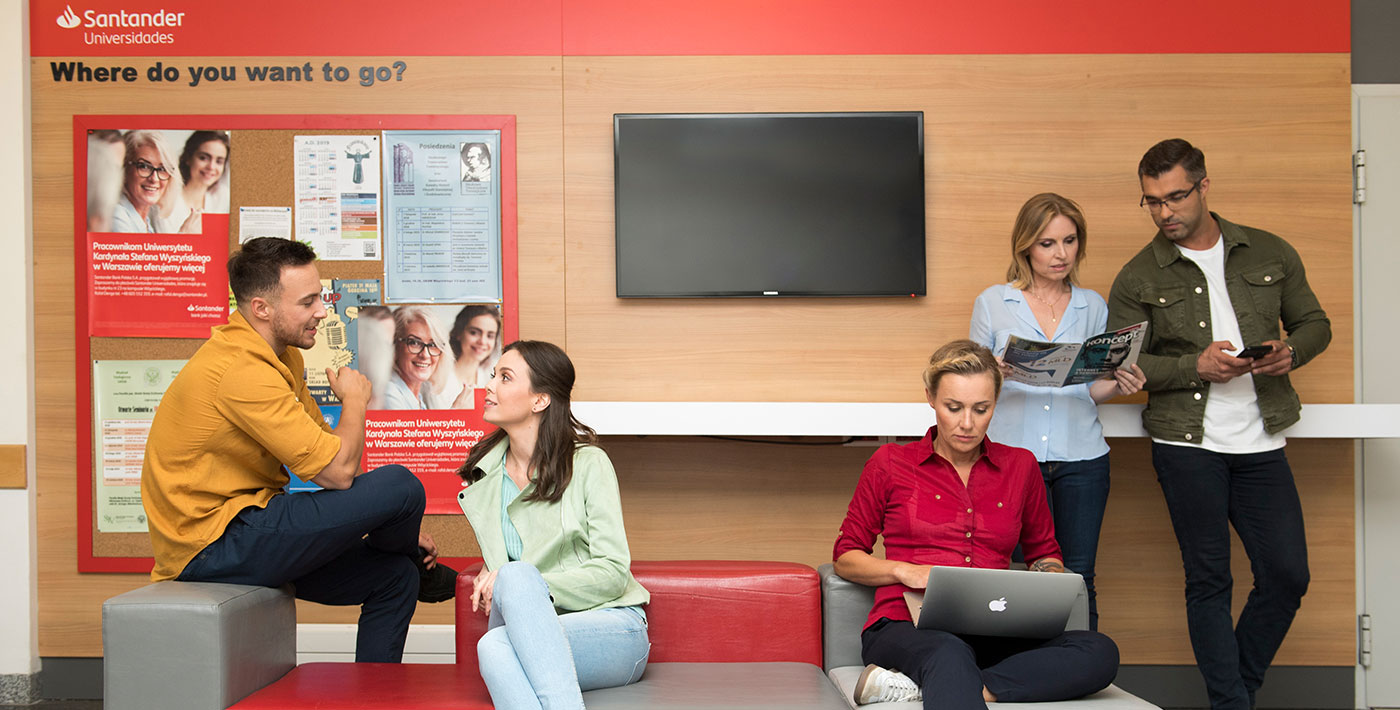 Global Santander Scholarships in 2019:
Santander-Yale International Experience Summer Program
During their five-week stay at Yale University, participants could choose courses from over 100 thematic workshops. The student from Poland who took part in the workshops focused on biology.
After the first week at Yale, I'm very impressed with the university and the quality level of classes. I am very excited to study with such a diverse group of students. Together with the rest of the Santander Scholarship beneficiaries, we have created a very harmonious group, often spending time together in the canteen, in the library and participating in various events and excursions organized by the university. My first biology class was very interesting, the programme for the 5 weeks is very intensive, but the classes are very professional and easy to understand.
Georgetown Summer Workshop-Social Innovation and Financial Inclusion in the Digital Age
A two-week multi-disciplinary workshop on key trends affecting social and economic integration. Students worked on projects of innovative solutions, which are expected to help overcome the main challenges of our times.
TrepCamp Entrepreneurial Simulator 2019
An international development project for aspiring startuppers. It is carried out in major innovation centres such as Silicon Valley, New York, London, Boston, Mexico and San Diego. It allows participants to gain invaluable experience within a few weeks, which entrepreneurs normally acquire over a course of many years. During the three-week training, participants work in multidisciplinary teams to develop innovative, comprehensive solutions to a selected global challenge. The conceptual work is supported by a group of international mentors and entrepreneurs. The programme also includes seminars with experts, visits to business incubators, accelerators and innovation centres of leading global companies, as well as presentations in front of a panel of international investors.
The time spent in New York has given me confidence. I saw how important it is for an entrepreneur to have a passion and commitment to what you do, because there will always be ups and downs. This trip taught me that the world is really full of amazing possibilities. And most importantly, that it is worth meeting people from different countries, because it enriches and broadens your horizons.
Santander W50: Preparing Our Women Board Members of Tomorrow at the University of California, Los Angeles (UCLA)
Thank you Santander Bank Poland and UCLA Anderson for a fascinating journey into a world of leadership based on values, finance and other interesting topics. The courses are over, but our journey is just beginning. See you in Poland!
Santander IE- Digital DNA
The scholarship holders took part in two five-week online courses on Digital Skills:
New Technologies in Innovation – the aim of the course was to present the path of technological development from the point of view of companies and how companies use technologies to create a competitive advantage.
Data Science and Visualization in Business – practical activities related to developing competences in working with data and its visualization and using data science in the development of the company.
I am very pleased to have been able to participate in the Santander IE – Digital DNA scholarship program. It was 10 weeks of intensive learning in an international environment, under the guidance of enthusiasts and specialists in innovation and data analysis. Thanks to the program I created a comprehensive strategy for digitalization of the company, learned how to analyse and visualize data using tools such as Tableau, improved my communication skills and met inspiring people from around the world. The program gave me many opportunities for development, made me aware of the importance of technology today and provided a lot of joy and satisfaction with the course results.